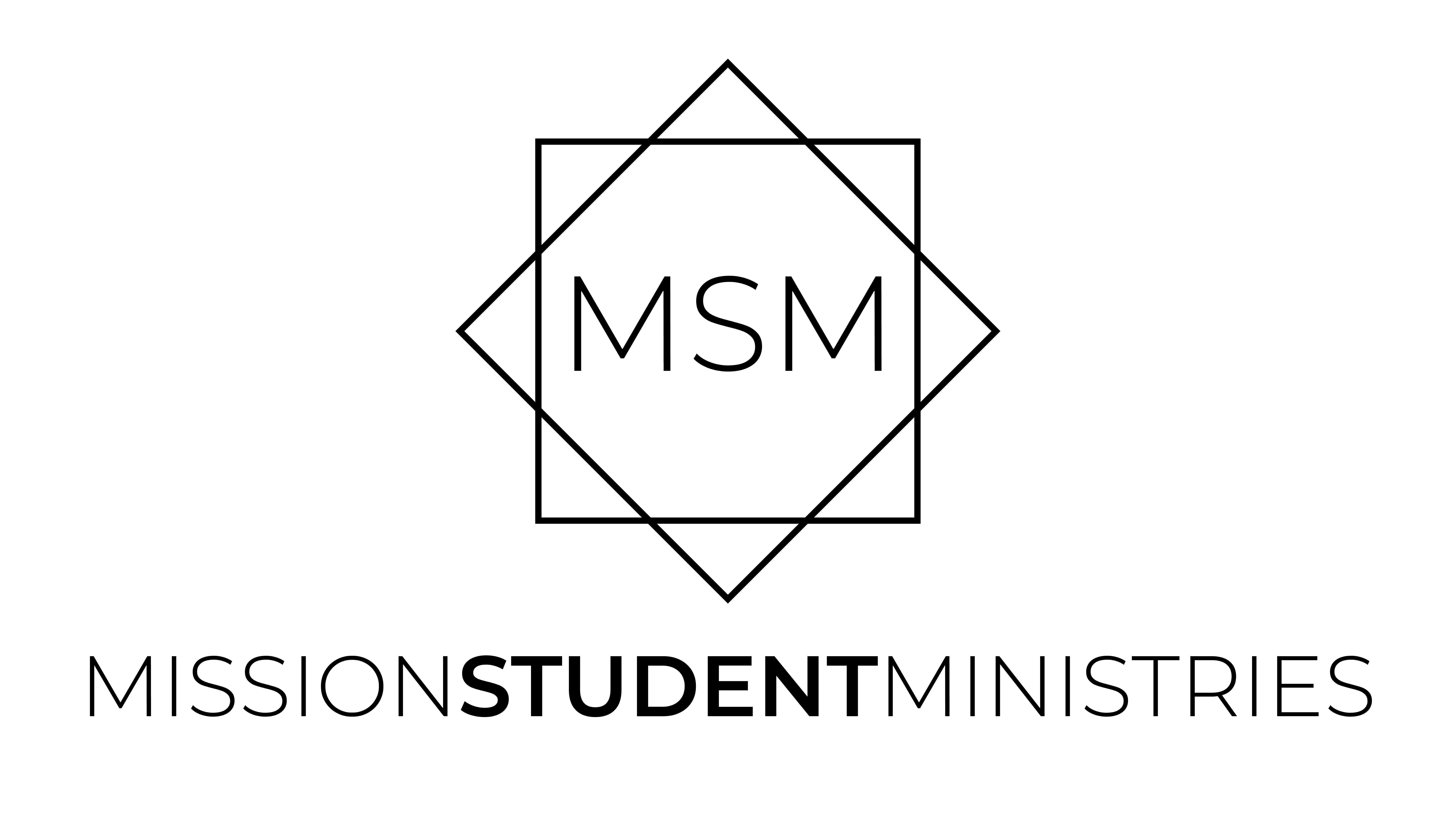 MSM IS A PLACE WHERE EVERYONE IS WELCOME!
Mission Student Ministry aims to partner with parents to assist you in training up your children according to the teachings of Jesus Christ as found in God's Word, the Bible. We aren't looking to take away your job as you are the most important spiritual influence, but we would love to come alongside and help you in discipling your children to become men and women who love God with their hearts, soul, and mind.
What can you, as a parent, expect from this ministry? We don't expect parents to drop off their students for youth group in the same way that they drop off their children for soccer practice or piano lessons. We aim to create a place where students can get connected, grow in knowledge and love of God's Word, and be discipled to view every area of their lives in light of what Jesus Christ has done for us. We won't just tell students to make more good choices and less bad choices. We will lead students to open up their bibles and see the life-transforming truth of the gospel by friendly, loving, and qualified youth leaders.
You won't be left in the dark. We will keep parents informed about what we are learning, how we are growing, and the direction we wish to go. We will do our best to provide resources to help parents disciple their students throughout the week, complementary to what they are learning at Mission Students. We will do our best to communicate with you via email and Faith Life, carrier pigeon, etc. You can be sure that you will know what is happening, when it's happening, and what time it starts and ends. No one likes dropping their kids off in an empty parking lot with no idea what is going on. We do our best to make sure that never happens.
Our Vision
Mission Students shares in the mission of Mission Church, which is to partner with God to see His kingdom come in Las Vegas as it is in heaven. As a ministry, we want to partner with parents in pointing students to
Love Jesus, Live Like Jesus, and Lead Others to Jesus. This vision drives everything we do.
How Do We Accomplish These Things?



Mentorship
As parents point their students to Jesus, we want to be that second voice that encourages students to live out those spiritual truths. Studies have shown that it is beneficial to students' spiritual development to have Godly adults in their lives in addition to their parents to reinforce what the parents are teaching their students. When parents don't yet know Jesus, we want to proclaim and demonstrate who He is to them by seeking to care for their students selflessly. Perhaps God will use some students to lead their families to Christ!


Intentional Programs
Mission Church's approach to youth ministry places students as participants in the life of the local church while providing weekly gatherings, student groups, events, and summer camp. Within our model is a structure where youth can find full membership within the church community, with specific avenues for community and discipleship contextualized to their age.
We want to create an environment that allows students to doubt, ask questions, and wrestle with their faith. Our goal is to walk with students through this process and bring them through the other side. We also want to prepare your students so that when they graduate from high school, they will do so without graduating from faith. Part of our preparation to do so is teaching your student a perspective of God that is big, adventurous, and faithful to the narrative of Scripture.


How Can you partner with us?
Grab a handbook and consider volunteering as a youth leader.
Be a cheerleader for Mission Student Ministry. That can be one of the best outreach tools out there. Your commitment to seeing your student involved in our ministry is also key.
If you have a problem, concern, question, or issue with anything we do, come to us first!
We want to help start spiritual conversations at home, so don't be afraid to ask what went on at one of our gatherings or small groups. Dialogue with your student and generate spiritual discussion. Don't let them off easy.
Know the purpose of each event and help us communicate that to your student.
Actively pray for our student ministry, the staff, and the students.
Join our leadership team for the right reasons. Don't join if you want to keep an eye on your son or daughter. Join us because you love Jesus, our ministry, and students.
Make student ministries a priority in your home because it can have a powerful impact on your student's spiritual life. Plan, so conflicts don't arise.
If you have any questions, please contact Ryan Phillips: ryan@missionlasvegas.com